◆◇JNA Nail Salon Hygiene Manager Qualification Seminar in Singapore◇◆
by Hisako Yamasaki Nail School in Japan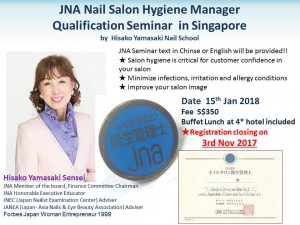 Hisako Yamasaki sensei, JNA member of the board & Honorable Executive Educator from Japan !!
Buffet lunch at 4 star hotel with Hisako Yamasaki sensei is included!
You can get JNA Nail Salon Hygiene Manager Qualification and Badge in this seminar!
JNA Seminar text in Chinse or English will be provided!!
★ Salon hygiene is critical for customer confidence in your salon
★ Minimize infections, irritation and allergy conditions
★ Improve your salon image
■Date■
15th Mon Jan 2018
JNA Salon Hygiene Manager Seminar by Hisako Yamasaki nail school
—Lunch included
—Seminar text (Chinese or English), JNA certificate and badge included
Important!
★Registration Closing on 3rd (Fri) Nov 2017★
Candidate list will be sent to Japan in advance so it is very important to register before closing date to avoid missing this golden opportunity!
♥Hisako Yamasaki Sensei
JNA Member of the board, Finance Committee Chairman
JNA Honorable Executive Educator
JNEC (Japan Nailist Examination Center) Adviser
JANEA (Japan- Asia Nails & Eye Beauty Association) Adviser
Hisako Yamasaki Nail School Principal
Society for the Study of Nail Therapy Japan Chairman
For registration and enquiry, please
call / SMS +65 91168356