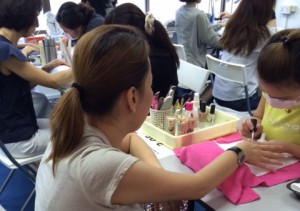 This certification exam aims to improve proper technique and knowledge and also provides useful practice.
The two types of certification are: nail certification and gel nail certification.
The nail certification is a three-level certification, with 1st Grade being the highest. The gel nail certification is comprised of two levels: Advanced and Beginner. The 2nd Grade and 3rd Grade nail exams are taken together.
Nail Certification
1st Grade
Comprehensive skills and knowledge required of a top level nail technician
2nd Grade
Nail care/nail art skills and knowledge suitable for salon work
3rd Grade
Basic skills and knowledge of nail care and coloring
Gel Nail Certification
Advanced: Comprehensive skills and knowledge required of a gel nail technician
Beginner: Basic operation and knowledge of gel nail
Nail Examination Registration Guideline
Download exam-registration-guide.pdf
Exam Registration Form