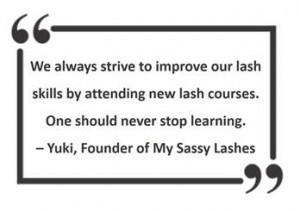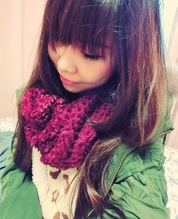 JANEA is honoured to interview Ms Yuki, Founder, Trainer and Top Stylist of My Sassy Lashes. She is a professionally trained and JANEA Certified Eyelash Specialist who provides Japanese Style lashing technique in Singapore.
With 7 years of experience in this industry, Yuki's newly renovated salon only hires professional trained and certified eyelash specialists. My Sassy Lashes is one of the pioneer JANEA Certified Eyelash Extension Salon in Singapore and strictly uses safe and high quality lashes and lash glue imported from Japan.
"How long have you been in the Eyelash Extension industry?"
Yuki:  "About 7 years in the lash industry to-date. I learn my extension skills and knowledge from Tokyo, Japan."
"What are the changes in the demands and trends of Eyelash Extension industry in Singapore that you observed over the past 7 years?"
Yuki:  " In Singapore, it wasn't that popular back then when I started. It was a niche market thus it was pretty expensive to get lash extensions done at salons. However, in recent years with the blooming of new lash salons and home based lash salons, they are offering lash services priced below market rate. It is kind of competitive now for the new lash salons/ home based salons compared to lash salons who started earlier."
"How was the level of lash specialist's standards in Singapore when you first started doing lashes? How is it different now?"
Yuki:  "In Japan, certain license and qualifications are required to do lashes for customers. However, in Singapore there are no such requirements. Thus, there is a mix of eyelists who are certified and non-certified in Singapore salons. The level of eyelist standards in Singapore depends on the individual lash education and experiences, be it past or present. If there are no strict requirement of standards set in Singapore, we will still face the issue of customers' lashes being ruined by untrained and uncertified lash staff. It is important that all lash specialist  should be well trained and certified."
"How was the level of standards of hygiene in Singapore when you first started doing lashes? How is it different now?"
Yuki:  " It depends solely on the salon owners and staff. In some places, the level of salon hygiene is very low, while some salons are very clean and hygienic. Most of the salon hygiene standards are pretty obvious thru visual observations, such as clean bed sheets and blankets, and if the salon sanitise the tools in front of customers, to name a few examples.
"How was the level of standards for natural eyelash care when you first started doing lashes in Singapore? How is it different now?"
Yuki: " It depends on the individual. At My Sassy Lashes, we teach our customers how to take care of their own lashes."
"Was there demand for coloured / volume extensions when you first started doing eyelash extensions? How is it different now?"
Yuki: " The demand for colour lashes is still very niche at My Sassy Lashes. However,  It depends on the customer base as well. In contrast, the demand for volume lash is higher compared to the past."
"How do My Sassy Lashes succeed in keeping ahead of changing market trends?"
Yuki: " We always strive to improve our lash skills by attending new lash courses. One should never stop learning. Improving existing skills sets and being well equipped with new lash skills are vital. And of course, getting the professional certifications such as JANEA Eyelash Specialists helps us to stay ahead in this competitive industry today. High quality products that are safe to use on customers, are extremely important too. We can never compromise that. Lastly, providing good service and comfort to customers is our top priority.
Thank you for sharing so much valuable information with us, Ms Yuki!
Part 2 "Professional Tips on Choosing a Good Salon"
My Sassy Lashes 
JANEA Certified Salon
Dhoby Ghaut, 190 Clemenceau Ave #02-25
​Singapore Shopping Centre S(239924)